Exhibit « Le jardin des incomplets » by André Lemire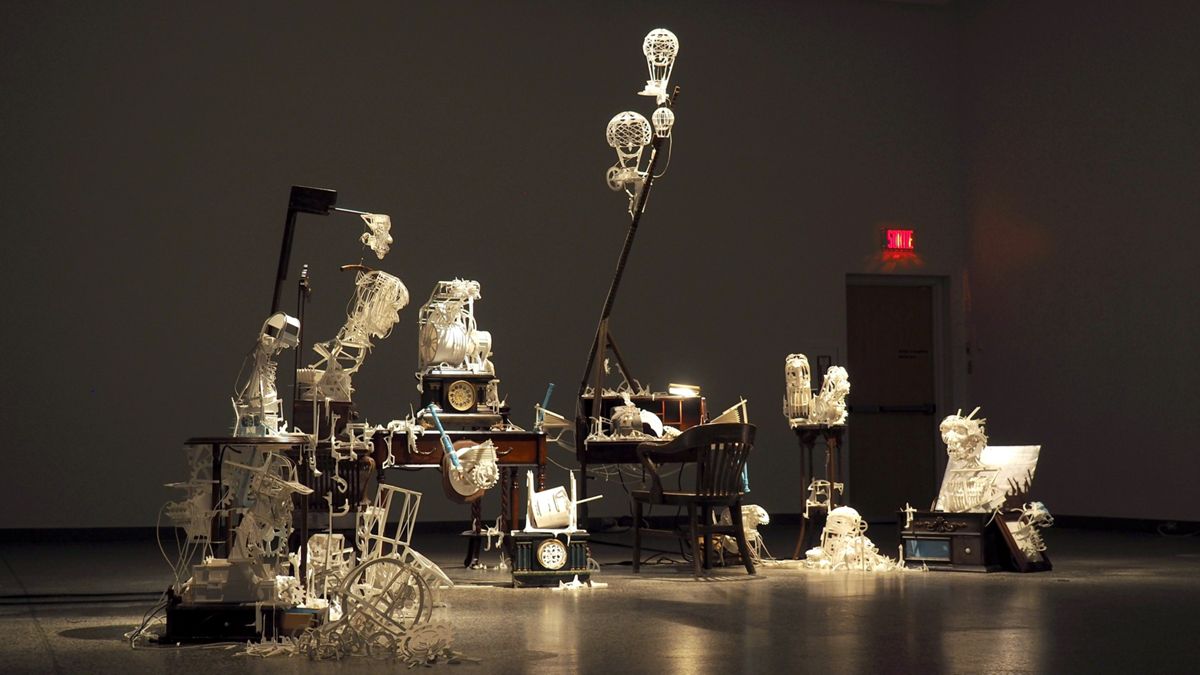 Attendence mode
Face-to-face event
The centre d'exposition Art-image is delighted to welcome artist André Lemire starting November 2nd with his exhibition Le jardin des incomplets. Lemire's aim is to portray failure and anti-performance, reflecting a chaotic and complex world in which imperfection, dysfunction and error play an essential role.
From one presentation to the next, the elements that make up the installation wear out, break, are repaired or combined, and are recycled in another form, in an additive process in which nothing is lost, suggesting a form of life halfway between the automaton, the plant and the mycelium that seems to colonise the exhibition space more and more like the jungle on the ruins of a lost city. The objects here are trying to come to life, even to breathe at times, but without fully succeeding. The imperfection of the creator has manifested itself in the imperfection of the creature. The work has not been completed. And yet, a semblance of life manifests itself...
___
The vernissage will take place in the presence of the artist on Thursday 2 November from 6 to 8 pm.
Complimentary wine and beer.
LE JARDIN DES INCOMPLETS runs until 17 December 2023.
André Lemire is also exhibiting at Espace Pierre-Debain in the Aylmer sector until Sunday 10 December 2023.
The Art-image exhibition centre is located inside the Maison de la culture de Gatineau. There is free parking at the back of the building. The site is also accessible by bus on STO routes 63/67/71/73/75/87.
Welcome to all!
Useful information
Art-image et espace Odyssée
855, boulevard de la Gappe
Gatineau J8T 8H9
Complementary information
Organizers
Art-image et espace Odyssée
The Centre d'exposition Art-image and the Odyssée space at the Maison de la culture de Gatineau are two exhibition spaces whose mandate is to disseminate current and contemporary art in order to increase public awareness and appreciation of these practices. Both spaces present exhibitions by professional artists. These artists come from the region, the province and the country. Once a year, the Émergence programme gives young artists from the Federal Capital Region the opportunity to exhibit their work in a professional environment.
855, boulevard de la Gappe
Gatineau J8T 8H9
Events that might interest you